Overview
Website hosting is one of those things that runs in the backend. Only people who run websites or work in an industry that need an understanding of how the website works come into existence with knowledge and explanation of web hosting. For website owners, if you choose the right provider and web hosting plan, web hosting is not something you have to think about on a daily basis. As long as you keep your account updated your web hosting provider should be running smoothly in the background and keep your website up and running for all visitors who want to see it.
Reason You Might Like HostGator
Offers More
Advanced Security
SiteLock is the trusted partner for website security that helps HostGator clients proactively protect websites from cyber threats. SiteLock on behalf of Hostgator is offering all of its HostGator customers three different security plans: Essentials, Prevent, and Prevent Plus. Each plan varies in the level of protection and security. As a HostGator customer, you will receive up to an 80% discount on the retail price of these plans.
Note: This offer is a good plan and is only valid for new Linux and shared hosting clients.
Great Uptime
The Terms of Service, Section 15, contains accurate and up-to-date information about the HostGator Uptime Guarantee in its entirety. This article is only intended to help explain the rules that you accept. If a shared server or reseller does not meet the 99.9% uptime guarantee, you can receive one month of credit for that package in your account. The Uptime Guarantee is applicable only to shared web hosting accounts and reseller web hosting accounts. VPS(Virtual Private Server) and dedicated servers are covered by a very different and unique network guarantee.
Highly Customizable cPanel
You have adequate access to the raw version of our cPanel, we avail you with scalability, and Hostgator even have plans that allow you to be a reseller for your customers. And the website builder Hostgator offers plenty of templates and drag and drop features that make designing a website quick and easy for anyone, including all beginners.
Website Statistics are provided by Hostgator cPanel like AWStats, Webalizer, Raw Log Manager, Referrer and Error Logs
Password protected directories and custom error pages
Hostgator is also providing its clients with Web-Based File Manager, Hotlink Protection, IP Denial Manager, Redirect URL.
Unlimited Bandwidth
Bandwidth is the amount of data that can be transferred to and from your account in a month. Every time someone downloads a 10 KB file from their website, they use 10 KB of bandwidth from their account. Also, every time someone visits your site, they are downloading the home page and consequently using that bandwidth. Bandwidth gets reset on the first of every month, except for VPS. VPS bandwidth is calculated by the billing cycle.
SSL Certificates
We all understand the value of SSL certificates, whether we are new or old. A website is extremely significant since it safeguards the information of its visitors. These SSL certificates are expensive, and many site providers charge exorbitant fees for them. However, there are certain web providers that offer it for free, and HostGator is one of them. With all of HostGator's plans, SSL certificates are included for free.
Customer Service
HostGator's customer service is consistently rated among the best in the industry. The customer service is excellent, and the personnel is quite informed. They may be reached by phone or live chat 24 hours a day, 7 days a week. Though they don't have a ticketing system, you can use their knowledgebase to find answers to a variety of questions. Almost all of the answers to your questions would be found there.
Features
Automatic domain renewal: By this feature HostGator will automatically renew your domains before they expire to prevent you from losing your website.
Multiple Packages Available – Whether you need a dedicated server, VPS, or basic shared hosting, HostGator has the plan for you.
Affordable Prices: Web hosting isn't much cheaper than HostGator. There are cheaper web servers, but few of them have all the functions like HostGator.
Reseller Hosting: One of HostGator's most innovative features is reseller hosting, which allows users to sell their own hosting plans through HostGator servers. Start your own web server!
Excellent technical support: HostGator is famous for its technical support. Talk to a HostGator support representative anytime via live chat or call the company's toll-free number. Support is available 24/7/365.
45-day money-back guarantee everyone has different experiences with web servers, and so do you. If you don't like HostGator for any reason, you can get a full refund by contacting the company within 45 days.
Reasons you might not like 
Pricey Domains
There are Top Level Domains (TLDs) and Country Code(cc) Domains (ccTLDs and ccSLDs) that can be registered or can be transferred to HostGator along with the prices to register. If the TLD or SLD you want to register is not in the list, HostGator cannot register those domains. Many domains can be ordered via our domain registration tool. For other domains it requires you to contact Live Support or the chat support to request your domain order.
Not the cheapest
HostGator is not as cheap as it sounds. To get the $ 2.75 / mo offer, you'll need to pay 3 years in advance. When you buy an annual plan, then it costs $ 5.95 / mo (at least as of this writing). Additionally, they charge $ 14.95 for the protection of the privacy of domain names. So when you remove all the plugins and take your free domain offer, your hosting cost is $ 92.05 for the first year. After that, when it comes to renovating your hosting, your free domain will be renewed at $ 17.99 + $ 14.95 (for privacy protection), the hosting plan for a website will be renewed at $ 107.40; Your accommodation cost will now be $ 140.34. In addition, HostGator also charges for the website builder which is free for most companies.
Not the fastest
The most important performance indicator is speed. A faster website is good for its users, and it also helps their SEO rankings. In fact, studies suggest that a 1-second delay in page load will cost you 7% fewer conversions, 11% fewer page views, and a 16% decrease in user satisfaction. The results are particularly good for a shared hosting account. Remember that in a shared hosting account, you share server resources with other sites hosted on the same server.
Plans Offered By HostGator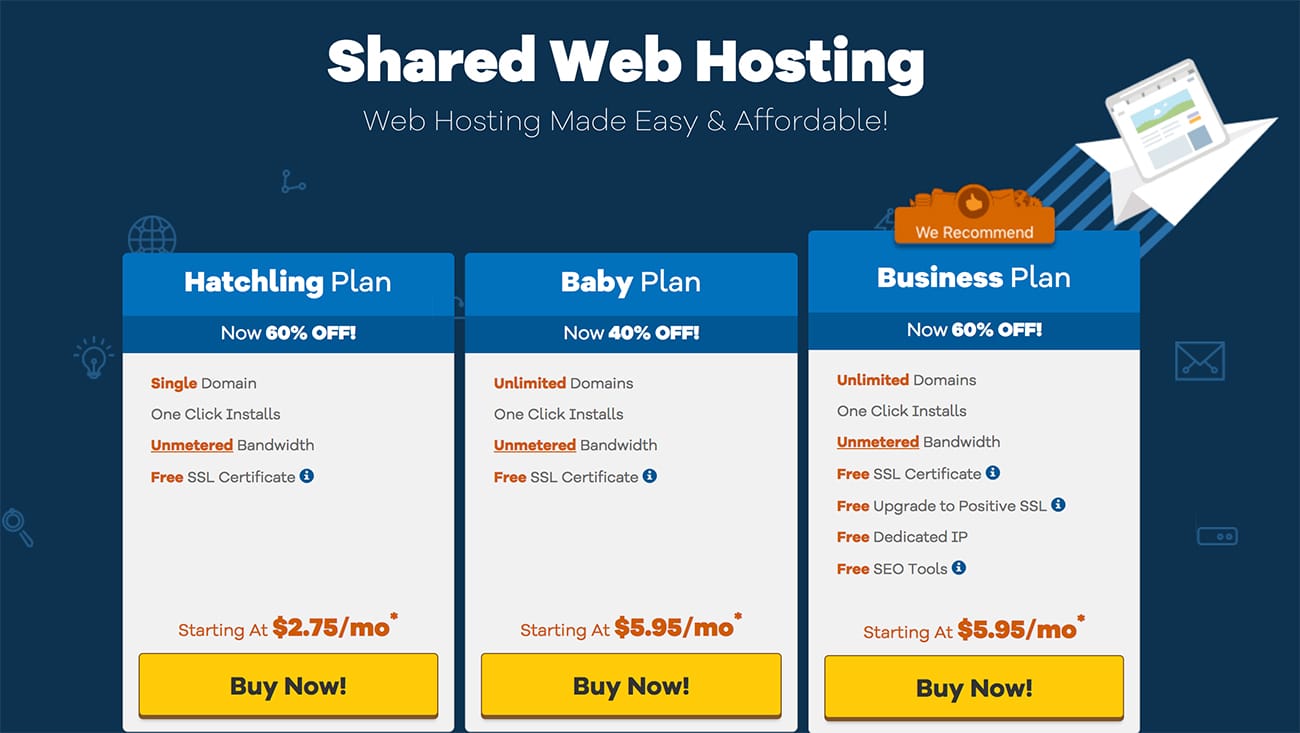 Shared Hosting
Hatching: The hatching plan allows you to host only one website. It includes a 1-click WordPress installer and comes with a standard set of features.
Baby: The Baby plan allows you to host unlimited websites. It includes all the features of the Hatchling plan, and you can also use plugins like private SSL.
Business: suitable for small business websites. This plan includes a free SSL certificate and a free dedicated IP that you will need to create an eCommerce website.
Cloud Hosting
Hatchling Cloud: single domain, unmeasured SSD disk space, 2GB RAM, 2 cores, free SSL certificate
Baby Cloud: Unlimited Domains, Unmeasured SSD Disk Space, 4GB RAM, 4 Cores, Free SSL Certificate
Business Cloud: Unlimited Domains, Unmeasured SSD Disk Space, 6GB RAM, 6 Cores, Free SSL Certificate, Free Upgrade to Positive SSL
VPS Hosting
Snappy 2000: Unlimited Domains, 80 GB disk space, 2GB RAM, 2 cores, free SSL certificate, 5 TB Bandwidth and Starting At $19.95/mo*
Snappy 4000: Unlimited Domains, 100 GB Disk Space, 4GB RAM, 4 Cores, Free SSL Certificate, 2 TB Bandwidth and starting At $29.95/mo*
Snappy 8000: Unlimited Domains, 160 GB Disk Space, 8GB RAM, 6 Cores, Free SSL Certificate, 3 TB Bandwidth and Starting At $39.95/mo*
Should you choose HostGator?
When you start looking for web hosting options, you will be finding many different companies competing in this particular area. While there are certain similarities in the plans offered by different companies, HostGator has some features and benefits that make Hostgator plans unique and special:
HostGator plans are affordable at all levels.
HostGator is accessible for beginners to learn and explore.
Hostgator offers a wide variety of resources to help their customers learn more.
Customers get support in multiple ways that too 24/7.
HostGator offers the advanced features that experienced developers are looking for.