Features- Fatcow web hosting service provider is as unique as its name. Introduced in 1998, Fatcow offers a wide range of services and hosting plans. The mission of this company is to provide simple hosting solutions at reasonable pricing and eradicating the need of technical knowledge as much as possible. The hosting plans are equipped with remarkable features such as free website migrations, free transfer of domains, unlimited email boxes, unrestricted bandwidth and storage capacity, user friendly website building tools, automated renewal of domains and a lot more.
HOSTING TYPES AND PLANS: QUICK OVERVIEW
MINIMOO
Minimoo is a basic plan offering small domain parking. The plan allows you to choose domain of your own and create a simple website page for the same. The cost is similar to that of a college going student's pocket money. Moreover, the Minimoo plan charges no setup fee or any other kind of hidden costs apart from what is displayed. You will even a get email account to use for free of cost.
THE ORIGINAL FATCOW PLAN
The original Fatcow plan is just another name for shared hosting plan. The plan includes various features such as boundless storage space, boundless bandwidth and boundless email account. The first term of the plan also offers a free domain name. Hence, you will have all the benefits of the shared hosting plans that the competitors offer.
VIRTUAL PRIVATE SERVERS
If you are looking for dedicated server services at a reasonable cost, a VPS hosting plan is the ideal one for you. The plan allows you to have root access as well as the control panel access. Also, the plan offers numerous features such as infinite domain and sub domains, spam protections, customized email address. Auto responders and much more.
DEDICATED HOSTING
Dedicated hosting is suitable for you if you are running a thriving business. You can either choose to run the website on your own or handle it over to the experts of Fatcow to manage it smoothly. The plan is highly recommendable for e-commerce websites that might outgrow a shared web hosting plan. Additional features of the plan include maximum performance, faster loading speed, top-notch security. Dedicated hosting plans is extremely handy for website with high amount of traffic.
WORDPRESS HOSTING
WordPress, being a user-friendly platform, Fatcow offers 2 WordPress hosting plans to choose from i.e., WP Starter and WP Essential. Both the plans feature pre-installed plugins and themes paired with a personalized control panel.
RESELLER HOSTING
Periodic income is pretty much handy which can easily be analysed and measured. If people are liking your service and are satisfied with the same, they will keep paying you year after year. You can re-sell the plans to your clients and get wholesale price. This is a great source of receiving passing income each passing year.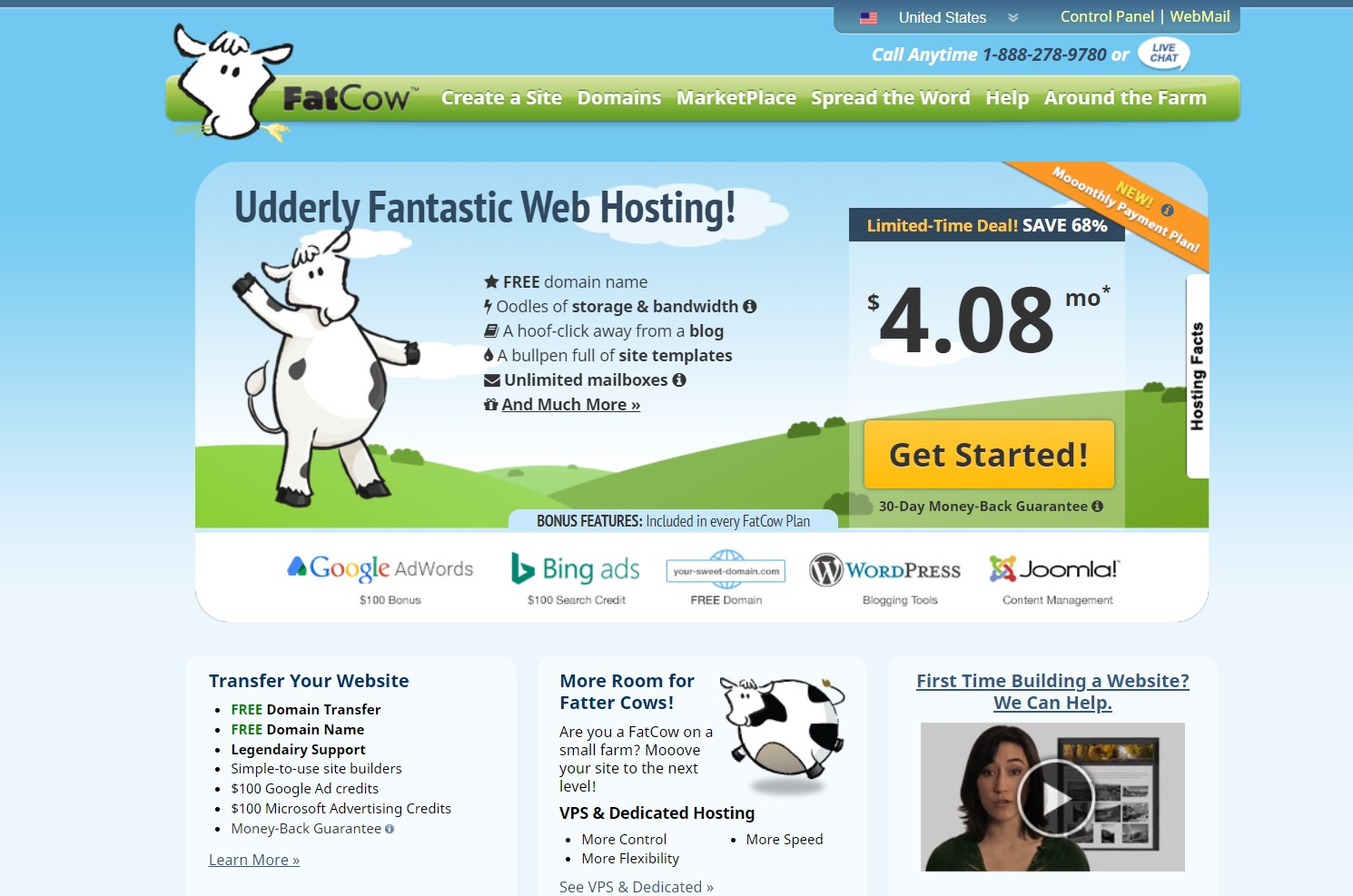 Customer Support
Fatcow provides 24/7 support which has become a necessity in the hosting marketing today. Live chat, phone call options and e-mail, you can pick any mode of communication as per your preferences to contact the customer's support team.  Also, they offer a comprehensive database of information and several various guides. The step by step tutorials will help you walk through the entire concept of website building and designing. The "HeiferCratic Oath" of the company ensures responding to phone calls within two minutes of calling and also provide problem solving idea during that particular call.
VDECK CONTROL PANEL
vDeck hosting control panel helps Fatcow hosting stand out from its competitors. Although cPanel is the most commonly used control panel, the vDeck panel is nothing less than that. vDeck control panel is extremely easy to install and can easily be customized as per your preferences. It provides a lot of detailed information that can help you throughout and is truly a professional tool to use for those who can manage the learning curve with an ease. Similar to cPanel, the vDeck control panel offer facilities that cater the needs and requirements of one and all. The performance of vDeck control panel has been widely appreciated by its users claiming that it could give a tough competition to cPanel making things easier for you and your business.
E-COMMERCE FUNCTIONS
Online business can slightly be a bit complicated one considering which Fatcow has launched an online story to make business easier. You can start selling products and services easily with the Ecwid cart which is fully equipped and comprehensible e-commerce solution designed for business. The PayPal mode of payment helps you to receive debit card, credit card and bank account payments online through the most trusted names on the web today. The Positive SSL certificate will secure the online transaction details. Various other e-commerce services like Doba, Product Sourcing and Simplied will enable you to choose over 1.5 million products and sell the same, the suppliers will take care of the rest. Additional benefits of Fatcow hosting provides users with free Google and Bing ad credits which is very much useful to the companies that are new to the online world.
MONEY-BACK GUARANTEE
Fatcow aims to gratify all the needs of its clients which it surely does to every possible extent, however if you are not satisfied with its services, feel free to claim your money back within 30 days of time period from purchasing which means you will have a 30 day time period to explore and understand the concept of services of Fatcow and decide whether or not it will satisfy your needs or not. However, Fatcow only refund the orders that are finished through a credit card. Also, money will be refunded only for the unused services.
Pros and COns
pros
cons
Cheapest web hosting service provider
Too many upsells

Responsive customer support
Extra cost for extra security

Free domain name and website migration

 

Extra charges for early cancellation
Free Web icons

 

Back-ups are charged

 
Summary
Fatcow web hosting company is known for offering wide range of plans and advance features that could suit the requirements of one and all. As a part of global conglomerate, the company manages to provide services to the users as much as least pricing possible. So, you do not have to worry about the budget if you are planning to opt Fatcow to host your website on the internet. Over the years, Fatcow has consistently boarded on service enhancements and their services are currently flawless for a perceptive user.